Music minister steps out with Street Choir
By Sam Hodges
January 26, 2015 | DALLAS (UMNS)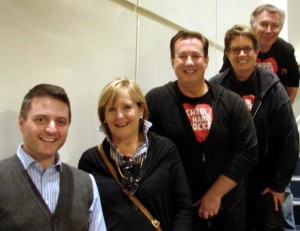 This past Sunday morning, Jonathan Palant had his usual gig, serving as music minister for Kessler Park United Methodist Church here.But on Sunday night he donned a tuxedo and conducted a stage full of instrumentalists and singers, ranging from a choir of homeless people to opera star Frederica von Stade, at Dallas City Performance Hall.Much could have gone wrong, especially since they were doing the U.S. premier of a challenging new choral work on homelessness. But apart from a few members of Dallas Street Choir making a premature stage exit—and having to be summoned back by Palant—the program came off fine.

Indeed, the packed house gave a prolonged standing ovation.

Even a few hours before the show, with performance details still being worked out, Palant seemed at peace.

"Everybody has come together at the right time, in the right place, for the right message and the right cause," he said.

The Sunday night concert, a benefit for a longtime Dallas homeless ministry called The Stewpot, represented the highest profile event yet in Palant's quest to make choral music more socially relevant.

From his base at Kessler Park United Methodist, Palant started CREDO, an ecumenical choir with an emphasis on community service. The choir draws from churches around Dallas. Its Latin name translates to "I believe."

CREDO has toured in Cuba, and does Christmas concerts at The Stewpot. The 2013 concert became a giant sing-along with homeless people and other clients there.

Brian Knopp was a new member of CREDO then, and remembers the thrill of that event.

"I'm 50 years old, and I've never had a Christmas like that," said Knopp, who also sings with the Northaven United Methodist Church choir. "At that point I was hooked."

Palant, 40, has more recently turned what had been the decidedly informal choir at The Stewpot into Dallas Street Choir, which rehearses regularly and offers incentives—such as bus passes—to those who show up and work hard.

"It's not easy to get street folks to commit to something," Palant said. "It's become easier because they see what it feels like being in a choir community."

Among the Dallas Street Choir members is Steven Bryant, who spends his nights at Union Gospel Mission. Bryant, who has battled alcohol addiction, sang in his high school choir in Louisiana, but believes he's singing better than ever thanks to Palant.

"He's an overall good guy, and on technical stuff he's awesome," Bryant said. "He lets us know the importance of singing soft or when to be loud. He tells us to push out from the stomach, so it sounds better, fuller."
`We will remember'
For Sunday's concert, Palant combined CREDO with Dallas Street Choir to perform "Street Requiem," a 40-minute work by three composers from Australia who share his commitment to socially relevant music.
Andy Payne, one of the composers, said the piece was inspired by the deaths of people living on the streets in Melbourne, Australia.
"Often their names were unknown," Payne said. "We wanted to write a piece for them, to say, `We will remember.'"
Palant summoned his nerve and asked von Stade —  a mezzo-soprano known as "Flicka" to her many fans — if she would sing solos in the Dallas production of "Street Requiem."
"I just loved the idea of it," she said after Saturday's rehearsal. "And once Jonathan sent me the piece, I thought it was beautiful. I work with a lot of kids in Oakland, and lot of them have been homeless at times, or slept in cars. There's just a huge place in my heart for people who have so much to deal with every day."
The Sunday night program included a video about The Stewpot, followed by a song medley by Dallas Street Choir, whose members wore bright orange t-shirts saying "Believe."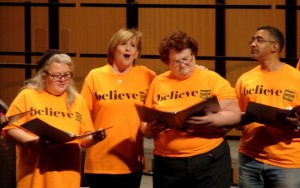 Von Stade, wearing one of those shirts herself, joined the choir onstage, taking the lead in "Somewhere" from "West Side Story."
After a brief intermission, the 80-plus members of CREDO came out. Von Stade reappared, wearing a long dress. Palant conducted the orchestra as she and CREDO sang through the early movements of "Street Requiem."
Later the Dallas Street Choir members, by now dressed in donated tuxedos and long dresses, came back on stage and joined in the final movements. They drew applause not just from the audience but from their fellow musicians.
A day later, Dallas Street Choir member Kobi Maxwell was still glowing.
"It was awesome to see the finished product," said Maxwell, who has found fulltime work and recently moved into an apartment. "It was inspiring to me to see the thing through to completion."
Palant said he's received strong support from Kessler Park United Methodist Church for his work with CREDO and Dallas Street Choir.
He's all for choirs with a community service mission. But the focus must be right.
"It's not the kind of community service where we do something to you or for you," Palant said. "We are building bridges, and there are lessons to be learned all over the place."
*Hodges, a United Methodist News Service writer, lives in Dallas. Contact him at (615) 742-5470 or newsdesk@umcom.org